Starting in 2023, Studio82 has partnered with Switchback Email Marketing to provide the best in-class email services to our clients.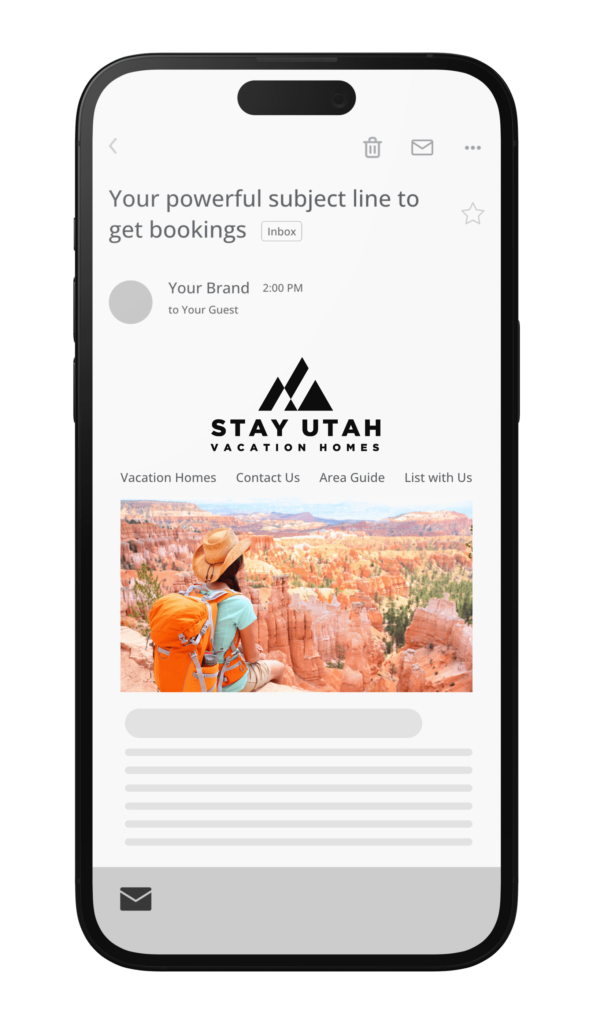 CONNECT WITH YOUR PAST & POTENTIAL GUESTS
Email Marketing for Vacation Rentals
Email marketing can be an incredibly effective tool for vacation rental managers who are looking to cultivate return guests and drive direct bookings. Email marketing allows you to re-engage your past guests and stay top of mind with your audience. Starting in 2023, Studio82 has partnered with Switchback Email Marketing to provide the best in-class email services to our clients.
Benefits of Email Marketing
The Switchback Approach to Email Marketing
Email marketing is a crucial strategy for businesses looking to increase brand awareness, customer engagement, and revenue. We've partnered with Switchback Email to provide our customers with access to the best-in-class email marketing service in the vacation rental space. Switchback combines various targeting strategies to maximize your return on investment (ROI).

Subscriber Data
The first step in successful email marketing is to collect insightful data about your subscribers. Switchback uses professional data collection methods to gather accurate and relevant data about your audience. By identifying the correct data to collect, we can create customized segments of subscribers for highly targeted content that results in better engagement and overall trust, leading to a greater ROI.

Segmentation
Once you determine the type and quantity of data to collect, we take it one step further by segmenting your subscription base into customized groups. This will enable you to deliver more personalized content - something that readers value highly in today's digital world! By doing so, not only do you build trust with subscribers but also maximize return on investment.

Automation
Automated emails are a great way to stay connected with customers without having to do the heavy lifting yourself. Thanks to Switchback, you can create personalized automated emails that truly capture your customer's attention. Whether these messages come as one-off confirmation emails or part of an ongoing series, they give clients more opportunities to engage with your brand - and those interactions will pay off in increased lifetime value.

Template Design & Layout
With Switchback, you can be sure your brand is professionally represented in all of its digital aspects. Our talented team puts in the extra effort to make sure emails sent from your business look and feel their best across any inbox; ensuring each subscriber's experience with your content leaves a lasting impression. Investing in an exquisite email template design is essential for keeping both current customers engaged and newcomers hooked on what makes your company unique.

Inbox Deliverability
At Switchback, we strive to offer the very best in email deliverability by employing thorough initial authentication procedures and adhering steadfastly to industry regulations. We understand that earning your clients' trust is paramount; with our dedicated campaign cadence strategies and meticulous segment selection protocols, you can be sure of consistent engagement - not just adherence to professional standards.

Measuring for Success
Measuring the success of email marketing is essential. Our approach provides access to a range of metrics, including revenue and progress towards specific goals, to gain a deeper insight into your clients' perspective of your brand. This data helps us to illuminate missed opportunities and assess whether you've met your objectives.
Ask Us About Email Marketing
Interested in Marketing Your Vacation Rentals?
Get in touch with us today for a free consultation.