Paid Search & Google Ads Management
Increase your vacation rental brand's awareness and drive your online bookings with efficient, measured, and strategically targeted online ads.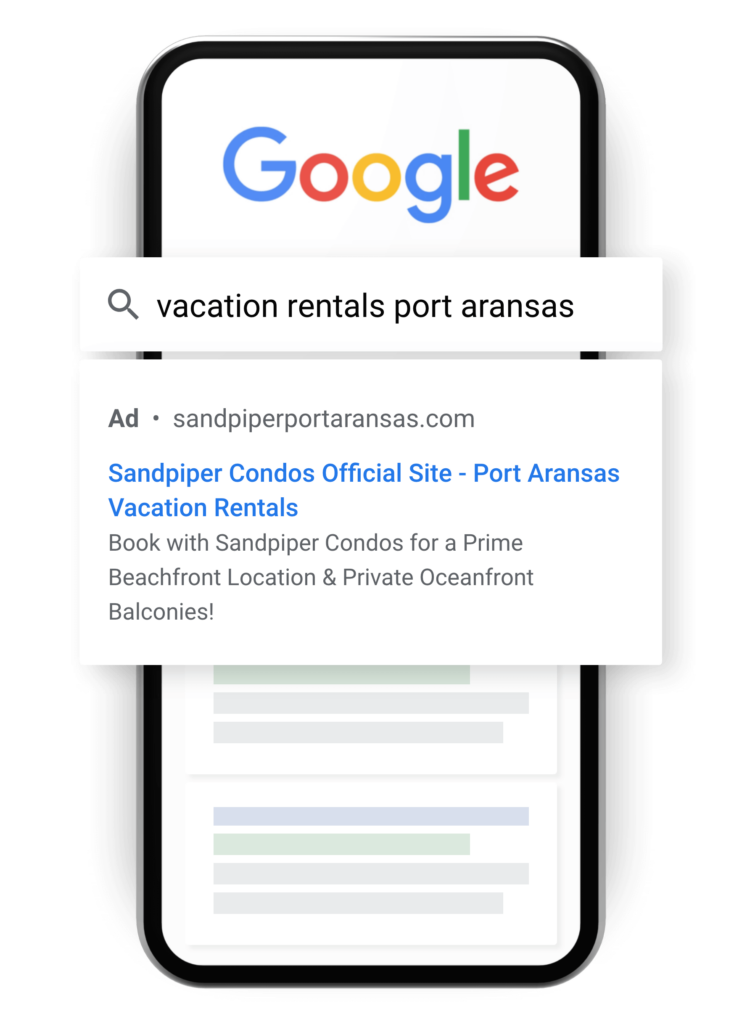 Paid Search Ads for Vacation Rentals
Google Ads enables vacation rental managers to reach a large audience of potential customers quickly and easily. With the use of keyword targeting and other advanced features, you can target potential guests accurately and within your set budget. This can help save time and money while improving the chances that potential customers will find your business.
Our Approach to Google Ads
At Studio82 Digital, we work with customers to create a customized digital ads strategy that aligns with your budget and business goals and maximizes your return on investment.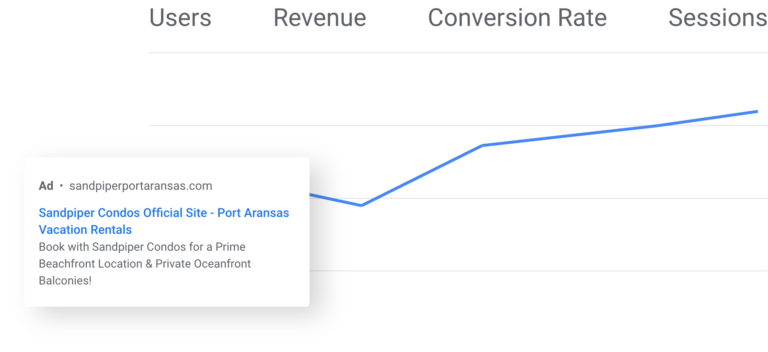 PPC Audit & Planning
The first step is to understand your vacation rental business goals and perform an audit of existing paid search campaigns to identify areas for optimization and improvement.

Keyword Research & Development
We conduct keyword research to identify relevant keywords that potential guests are using to search for vacation rentals at a reasonable cost-per-click.

Conversion Tracking & Goals
We define desired user actions (bookings, form completions) on your website and ensure we are tracking these appropriately in order to use this data to optimize our ad campaigns, measure ROI, and make data-driven decisions to improve our advertising performance.

Audience, Ad Copy & Creative Buildout
We craft compelling ad copy and creative that will resonate with your target audience and aligns with your advertising goals to increase click-through rates and conversions. We also create custom audiences and ensure we are targeting appropriate markets to maximize your ad spend & effectiveness.

Landing Page Optimization
We ensure that your landing page content and design are aligned with the ad messaging and provide a clear call-to-action that encourages users to take the desired action on your website, whether that is making a booking, filling out a form, or inquiring about your property management services.

Optimization & Reporting
We constantly monitor the performance of your Google Ads campaigns and continually optimize it to improve the ad's click-through rates (CTR), conversion rates, and your overall return on investment (ROI). We create custom reports to ensure we are sharing your ROI and performance metrics using Google Data Studio (now Looker Studio) each month.
Do You Want To Boost Your Business?
Sed ut perspiciatis unde omnis iste natus error sit voluptatem accusantium doloremque laudantium, totam rem aperiam